February 2022 – Hunters Newsletter
By Michael Holloway –  Partner Hunters Estate Agents in Barnet.
This month we talk about how the local property market in Barnet is performing in 2022 so far, we also offer some useful tips on successfully achieving the sale of your property if you're considering a move this year, as well as some helpful advice for buyers trying to navigate their way in such a strong sellers' market.
Firstly, we are delighted to share our recent achievement of being recognised as the most successful Estate Agent in Barnet 2021.
Best Estate Agents in Barnet 2021
Estate agency is a competitive business and Barnet is no exception, it was therefore, with a good deal of pride to have achieved such a high accolade from the market-leading property portal Rightmove.
The achievement recently confirmed in Rightmove's analysis, ranking agents that listed the most properties in 20221 as well and the agent that agreed the most sales, Hunters ranked first for both.
Ranked first for property sales agreed in Barnet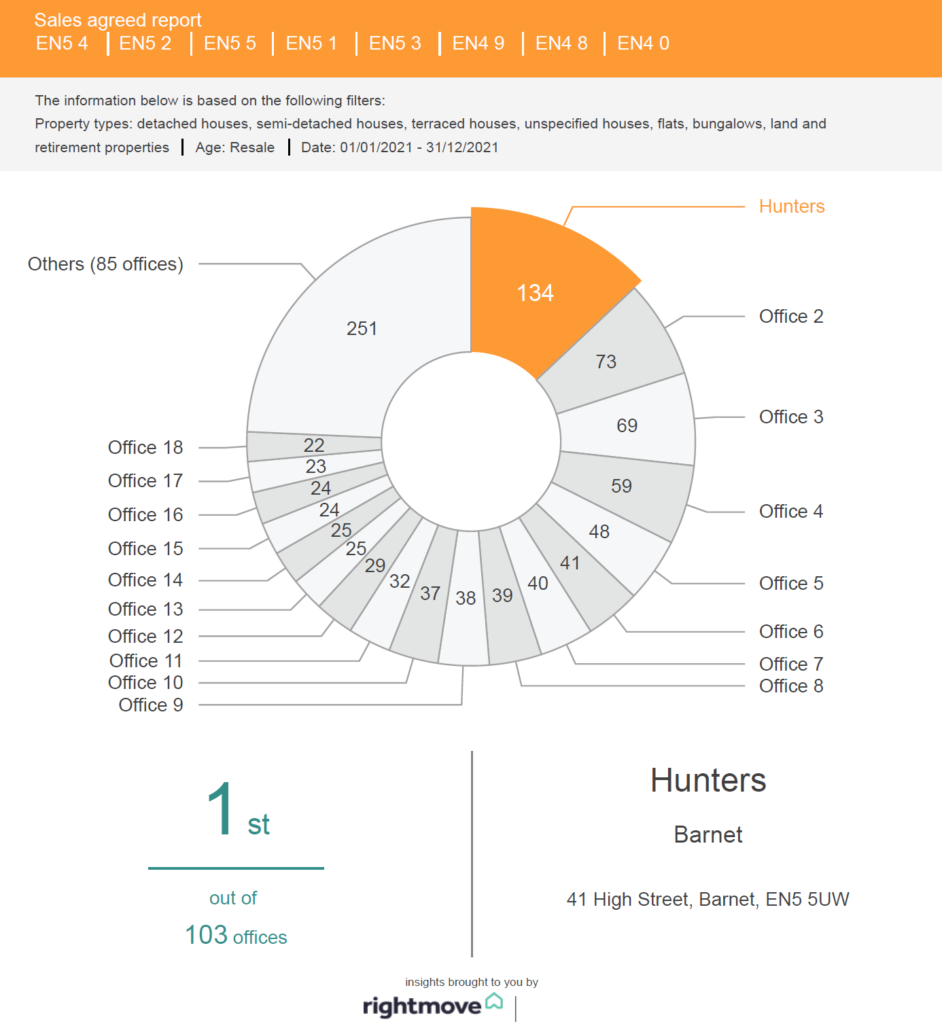 The image above from Rightmove, confirms the total number of property sales within the Barnet area, with Hunters ranking 1st out of all the estate agents that sold properties within the area, that's over 60 more than our closest competitor.
In the second image below, Rightmove confirms that Hunters Estate Agents ranked 1st of all the estate agents that listed properties in the areas covered by Hunters, all in and around the Barnet area with 152 properties listed during 2021, almost 40 more than our closest competitor.
Ranked First for Properties listed in Barnet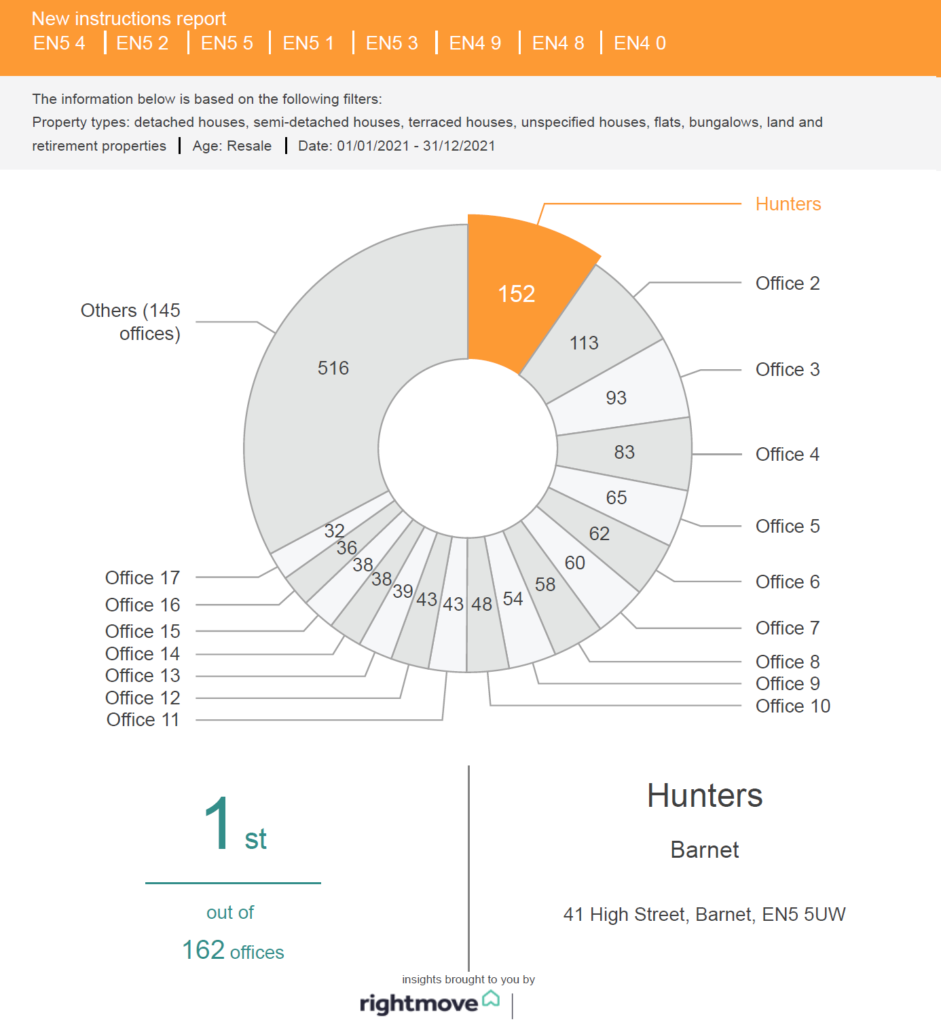 These results are a huge team effort from all within Hunters and reinforces our continued commitment to providing the very best customer service to our clients. A big thank you to our loyal customers and staff for a great year. As well as being a fantastic way to begin to celebrate Hunters of Barnet 30th anniversary year.
Selling your home in Barnet in 2022?
This year has already seen an upturn in the Barnet property market with considerably more seller activity. The combination of the easing of Covid restrictions, new year resolutions and the fact that people just wanting to get their lives moving again, has all made for a surge in activity.
In Barnet, compared to the same time last year, we have seen a 21% increase in the number of buyer enquiries registering on our mailing list. As well as a record number of home owners that have arranged for their property to be valued and planning a home move in 2022.
Buying a home in Barnet in 2022?
If you are thinking of a move this year, and certainly if you have an existing home that needs to be sold to enable you to buy another property, my advice is not to put yourself under pressure, as I see so many do.
Looking and finding your dream home without being able to proceed immediately is not the best approach in this very competitive property market. The result is almost always losing out to someone that is.
By all means, look around to see what's available in your price range, but then get yourself in a strong buying position, put your home on the market and when you have an acceptable offer then you are in prime position to go and find that new dream home.
Taking advantage of sellers' market
Early 2022 has seen the return of more normal seasonal moving trends, with many local people planning a spring move with lighter evening and hopefully warmer weather. Although, a good number of sellers' having taken an early initiative and put their property on the market have already succeeded in achieving a sale, often very quickly and more often than not at or over the asking price.
There are countless examples of the current pace of the local property market, we were recently instructed to market a property in Willenhall Avenue, Barnet, viewings scheduled over two weekends totalled 31 resulting in offers received from 6 different parties and an agreed sale price in excess of asking price.  Quite typical in the current market with similar successes of a property in The Croft High  Barnet, the property was on the market for two weeks with 25 viewing appointments and four offers received.  Many more similar successes include sales in Union Street, Cedar Lawn Avenue, Manor Road, Mays Lane and Hillside Gardens to name a few.
In the current market, where buyer demand remains strong and often outstrips the supply of new property stock coming to the market. The savvy home owner is taking maximum advantage of the high levels of buyer demand and are often rewarded by selling quickly and achieving the very best prices.
Our advice to local property sellers is to take advantage of the strong sellers' market and agree a sale early to benefit from the current favourable conditions.
If you require any help or advice, please give me a call anytime.
Until next month, good luck with your house hunting.
Michael Holloway
Hunters Estate Agents
THINKING OF SELLING?
Use our instant online valuation tool to give you an idea of your home's value or give us a call to arrange a more accurate appraisal.